Reminder….tap any picture to see it larger
Sunday, Dec 4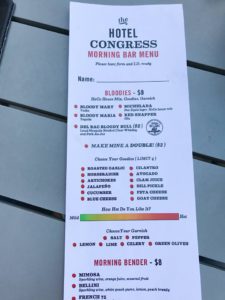 Went down town where found the old hotel CONGRESS that had a great Restaurant. We were surprised to find in the lobby a 3 piece trio that was GREAT.  There was a bar where they made custom Bloody Marys. You had to fill out this form and then they make it for you..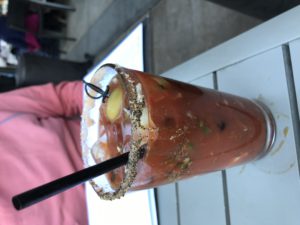 Jim..this is a place for you..really great Bloody Marys…define what you want in them!
The food was great too.  We will be going back here.
Monday the 5th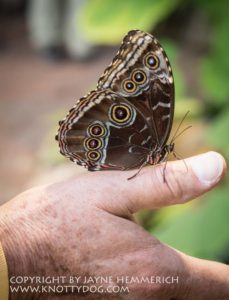 Went to theTucson Botanical Garden today and were surprised to find they had a butterfly section. This one really liked Larry.
Tuesday the 6th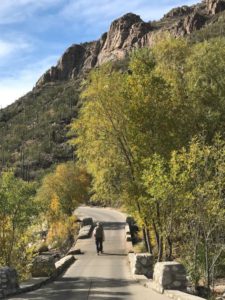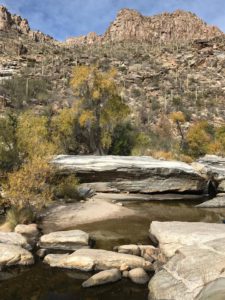 Explored Sabino Canyon yesterday. They have a tram that will take you 3.5 miles into the canyon where you can get off at different stops and hike. We road up and walked part way down and stoped by the stresm and ate the packed lunch we brought and had a great time. Found this neat spot where the stream water collects in pools and small waterfall where we had lunch.
Webnesday the 7th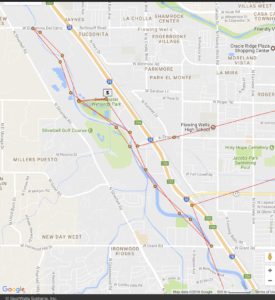 Went looking for a place called Wetlands Park….found it. It is a big water reclaimed area, sewage plant, lots of cattails and birds.  We did not have cameras as we were just looking. There is a big bike trail that runs along the river. And wr had the bike so we took off. After about a mile we crossed to the other side hoping we could cross again and mske a short loop. Boy was that wrong.  By the time we figured out that there was none, were were to comitted..bottom line, we road 8 miles round trip.
After that it was time to eat..went up and tried the Tucson Tamales…boy were they good!
Friday, the 9th
DirecTV was to come and install a new Geni receiver this morning.  They called at 5:15am to confirm.  Some how they think the install is in New York, I went thru all that with them 3 days ago…I got an email after the call saying they would be there at 11:15am. Agsin the New York address..I called and after a long discussion they said I could not instsll a Geni on an RV so they were cancling.  Bottom line after several calls I need  to open a new account…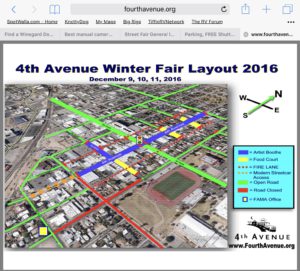 By now its 11:00 am and we are off to the 4th Ave street fair which starts today.  Parking was full all around and most streets are parking petmits only. We did find a lot at the top end for 5 bucks.  Walked both sides..bottom line….no really interesting stuff.
Saturday the 11th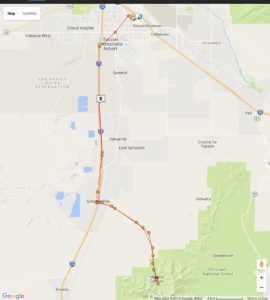 Took a trip up to Madira Canyon today….Met a couple from  Missouri up on the mountain who had a 10 year old Jack and were birders.  Seems we had a lot in common.
Tomorrow we are going to the Toy Train Museum.
Sunday, the 11th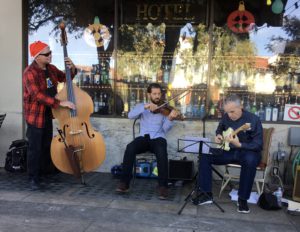 Went to the Congress Hotel for Brunch again..guess this is our Sunday Brunch place.  The Trio was there again so We brought a CD.  We enjoy their music
After Brunch We went to the Toy Train  Museum.  It is only open a couple Sundays a month.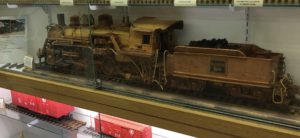 This is a wooden model of an old Steam Engine.  The tender says BURLINGTON…Day worked on these as a machinest for 45 years.  This model was carves with the pocket knives you can see in the left edge of the photo.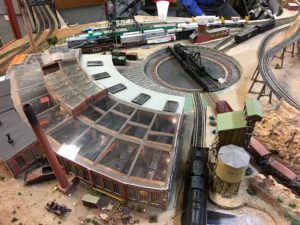 As a kid I used to go to work with my Dad and get to run the Turn Table represented in this model.
They had minature setup of all the different model gusges. HO, N ,Ect