March 13th
We have been driving to San Antonio from Castroville the last few days.  Seems there is a lot to see.
We followed the trail of missions today to the Alamo.  Mission San Jose today. San Antonio, TX.What an impressive sight.
This is Mission Conception.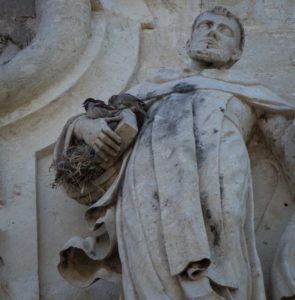 Was admiring all the characters in the sculptural detail of the entry to Mission San Jose today and low and behold we find one of the saints holding a nest. Take a closer look.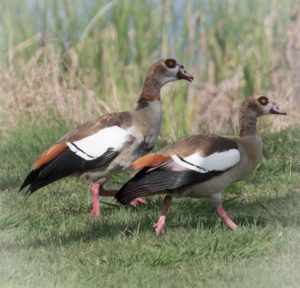 Egyptian Goose……Saw these unusual looking geese where we are camped. Thought they were a Black-bellied Whistling Duck until I looked it up on the internet. Egyptian Goose is found in the Nile Valley and Africa, south of the Sahara.
Populations have been successfully introduced to United Kingdom and Netherlands. That's all I know. Very interesting.
Not really roughing it here.
Had a nice bike ride yesterday along the San Antonio River from outside of town all the way into the Alamo area. You can ride all the way from the missions to the Alamo along the river on an amazing bike path.
Friday, March, 17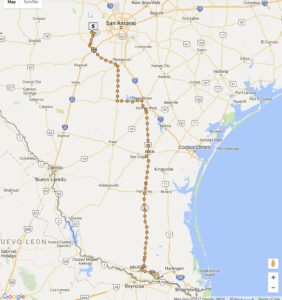 Mercedes, TX …..about 280 miles almost straight South of San Antonio, very close the the Mexican boarder. Several large RV resorts in this area. We are at Llano Grande in Mercedes. A very large resort with lots for sale. We stayed here last year as it is close to several of the bird parks. Seems a lot more crowed this year as many more casita have been built. Nice and clean, but does not come close to the Motorcoach Resort in Indio.
Most of what we do in this area is birding at several State Parks and reserves.  We have set up our feeders beside the coach and get a lot of visitors.
"Are you coming out today? How about throwing out a
few peanuts ?"
Good morning, I hope. Four days sick in bed with horrible cold. Been playing bird calls on my bird apps to the particular birds as they come by the bus. We are having back and forth conversations but have no idea what we are talking about.
We were driving around Harlingen…
"Came across this wonderful mural the other day driving around the little backroads around southern Texas. Glad they decided to save the old gas station too. The pig building is in the mural to the right and just so happens we saw it in San Antonio and took a quick photo of it. Lots to discover around here."
The Pig building is shown in the mural to the far right.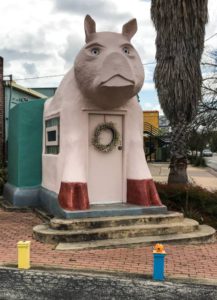 "They call it "The Big Pig" but [in reality] it was the baby pig, the "Big Pig" was BIG. I remember it was a big deal when Papa would drive by it.
Baby wasn't forlorn until Mamma was torn down to make way for progress. Both pigs were piggy-cornered to the old Mission Drive-in theatre on East White and Roosevelt. Mama was a restaurant, and Baby sat happily nearby. Baby Pig is thought to have served as a carhop shelter in days gone by at the South Presa Pig Stand, but evidently escaped his pen in the 1940s. He was re-discovered in the early '90s, sitting forlornly without his mama. He had been serving as living quarters, but was returned to his original Presa Pig Stand home and spiffed up. Sadly, he sits forlornly once again since this Pig Stand went out of business a year or so ago." – Sarah Reveley, March 2008
Dionicio Rodríguez who created the faux-bois sculptures all over [San Antonio] city and other states.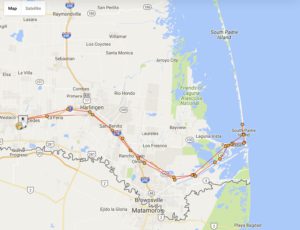 Thursday….we took a trip down to South Padre Island..  Somehow it just  did not do much for us.  We did see some birds along hwy 48, but the wind was just not making for a fun day.
We expected more crowds of spring breakers around, guess they were all at the beach.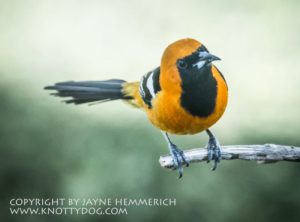 Wow, was thinking we might lure some hummingbirds, so didn't expect to have this very special visitor, an Altamira Oriole! Very rare bird.
Altamira Orioles are common in the southern part of their range, but in the U.S. are only found in the extreme south of Texas, where they have been listed as threatened by the Texas Organization for Endangered Species. Partners in Flight estimates a global breeding population of 2 million birds, with 3% living in the U.S., and 73% living in Mexico.
Hope it comes back again so I can get a decent picture of it!
Good morning! Thinking this is the Hooded Oriole and not the Altamira as I previously thought. Not supposed to be in this area until summer?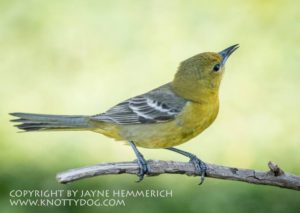 It's mate? the female.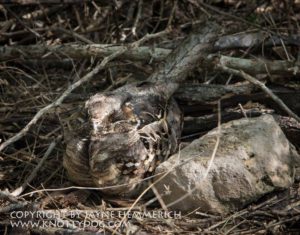 The nocturnal Common Paraque today, napping in the twigs. Common throughout the American tropics but only found in the US in a small area of southern Texas, where we are.
The wind will just not stop blowing here, day after day, 30 knots. Not good for birding but lots going on at the feeder. Everybody loves oranges here.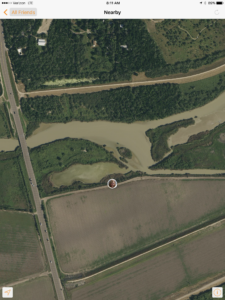 We found a gate open to the fields along the river..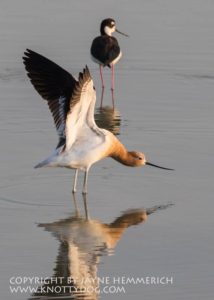 Black-necked Stilt. Legs even longer than they look. Mercedes, TX.
American Avocet stretching it's wing while the Black-necked Stilt stands by. Love it's curved thin beak. Mercedes, TX.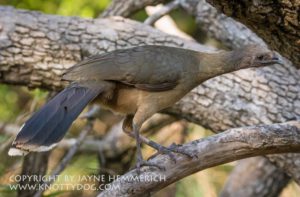 Plain Chacalaca, Mercedes, TX. A little turkey-ish in the face, about the size of a chicken.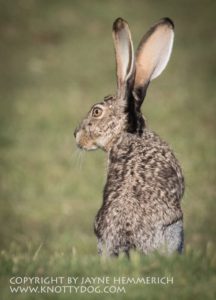 Look who hopped across our path today. Lucky I had the camera. Just in time for Easter1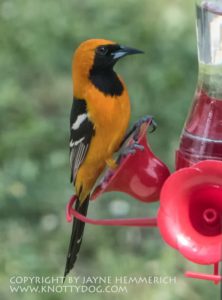 Hooded Oriole and his wife love the sugar water but will only allow me to photograph him from inside the bus through the glass. He sure is a beautiful bird and so happy he likes our feeder.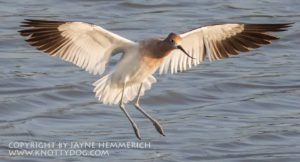 American Avocet yesterday afternoon. Mercedes, TX.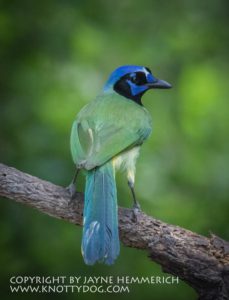 Ah, finally found the Green Jay today. Thought we were going to leave without seeing one. Mercedes, TX>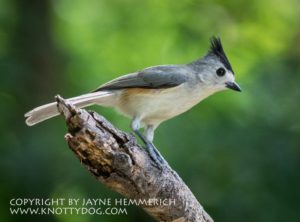 This little Tufted Titmouse wasn't on the list of  we expected to find today but was a welcome visitor. So cute! We don't see them on the west coast so was a pleasure to see one up close.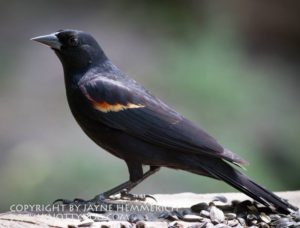 Rare little moment when the raucous Red-winged Blackbird gave me a glance.
So excited to get pictures of these Orioles building their nest. Too bad we won't be here long enough to see the whole process and the babies.
Finding this Oriole nest was the highlight of my visit in this area. Wow!
And there were Butterflies too!
We are leaving tomorrow , March 30th,  for a couple nights at Matagorda Bay….this was recommended by a person we met on a walk to the caves…Jayne will have to drive as Ziam down with the crud!   Everything hurts!  She has done a good job getting us ready.
its been fun here, but Jayne was down for the first few days and some of the reserves have quit feeding the birds…there excuse is the Big Black birds come in and take over….AND the bugs are gettinf to us along with 90 degree heat nd humidity every day…time to move on…