Arrived in Indio with no issues.  Great to be in civilazition!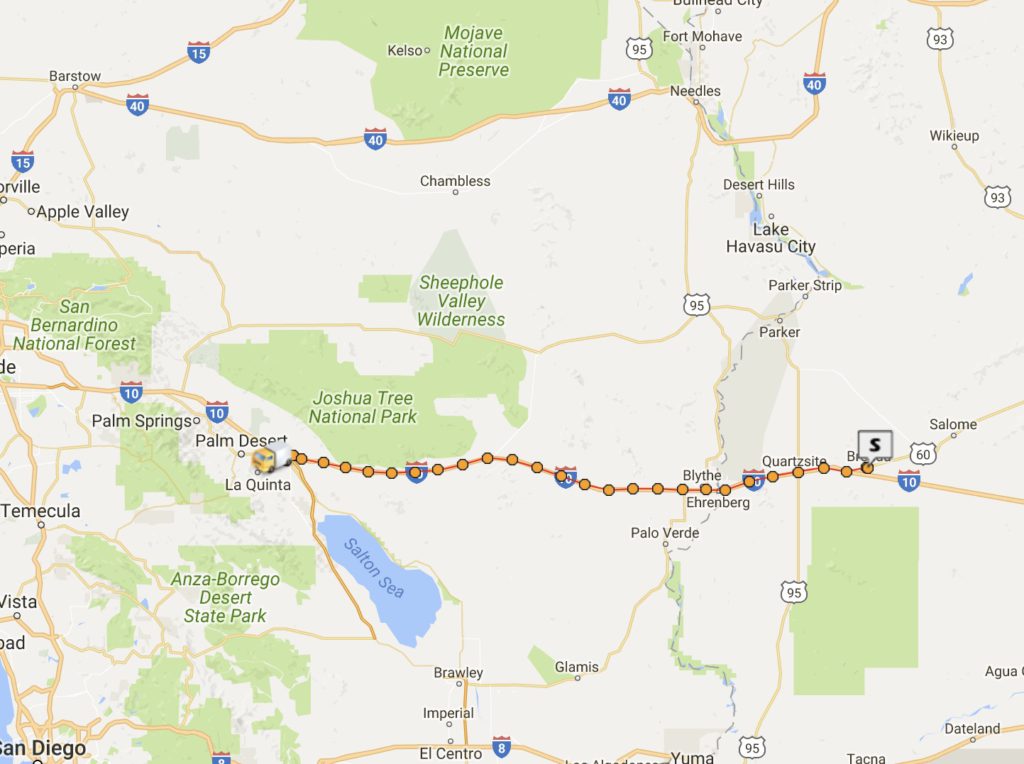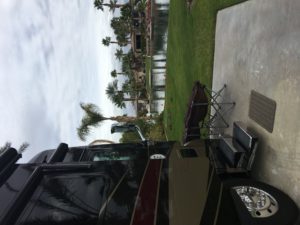 This is a first class resort! ….Home for the next few weeks
Drove around this afternoon to see what has changed since our last visit 2 years ago.  A few place have gone out of business, a few new buildings, but overall , the same.
Put the Hummingbird feeders up!
We love it here at this place. It is amazing. They have a mile of waterways and an 18 hole golf course, restaurant, tennis courts, large pool and spa. The landscaping is quite nice. It is gated. All the spaces are large with most having views of the waterway or the golf course. They had a big outdoor party last night with a singer that sounded like Frank Sinatra out by the pool area with fire pits and pot lot if you wanted and a couple very fancy motor coaches on display.
This is probably the best and most upscale motor coach resort in the world. Quite a contrast from some of the places we've been. Everyone rides around on golf carts, fancy ones that look like Rolls Royces or Cadilacs, mini sized of course. The restaurant is amazing with large bar area that overlooks everything. Some people also have little concrete dock pads with boats and we've seen them floating around at cocktail hour and/or ride to the restaurant where they can dock for dinner.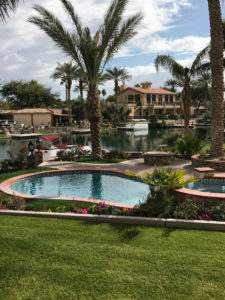 Most of the RV spaces have been individually built out with cabanas and casitas, with outdoor cooking areas, jacuzzi's mini bars and elaborate landscaping. It's amazing how much they can design and put on these lots. Can't tell you how many Mercedes, BMWs, etc parked by their coaches plus other toys. There are wild birds galore also, hummingbirds, egrets, herons cormorants, kingfishers, and more. There are views almost 360 degrees of the heavily snow covered mountains which are breathtaking. Usually they are brown desert mountains but with all the rain and cold weather they have had, the mountains are just covered in snow on top and fuzzy green on the bottom.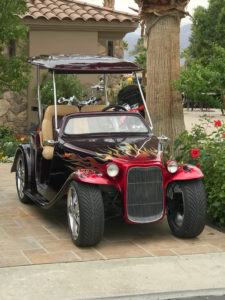 We are close to shops and restaurants and activities. So pretty nice. I will hate to leave. We've been enjoying all our old haunts for meals. It's been a good break and rest and nice not to have to cook all the time. I love that you can actually get some healthy things to eat and tastes good. People coming here demand it I guess so we are taking advantage. I got a kick out of one restaurant offering gluten free and antioxidant salads. We've been working off lunches by riding the bikes and looking at all the motor coaches and their pads. A lot of the coaches here cost over a million to a million and a half, maybe more? We are the paupers I guess but I don't care. Who in the hell would put that much money into one of these things?
Anyway, we will be here for a few weeks and then head East again so am going to enjoy every minute of it.
Even got someone coming to wash the coach, detail the car, and dropping the clothes off at an actual dry cleaner! OMG! I forget how much we do without living on the island and what a treat some of these small things are. One thing though, everyone looks great and has great clothes and I still look dumpy. Got pulled into a shop on El Paseo on a rainy day, claiming they had a miracle cream to take away the wrinkles. Yeah sure. During a weak moment I let them put the cream on one eye only and guess what it worked! Didn't buy any though,… ..who wants to bother with that everyday?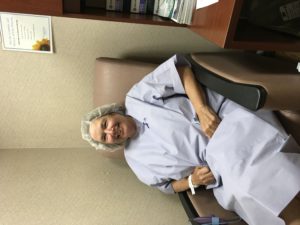 We have spent 4 weeks here, how time flys. Jayne got Her eyes checked…did NOT need cataract surgery ! Also had that nerve fixed in Her foot that has been hurting for years.
Its been fun…we have ridden our bikes all over this place…9 miles round trip to La Quinta for a muffin and up to the French Bakery at Washington and 111 for breakfast..
There was one lot for sale that we really fell for..a great view and more space between coaches. We went back and forth on whether to buy it or not. Finally, we came to our senses and decided not to. We can come back and rent for a month in the winter when ever we want.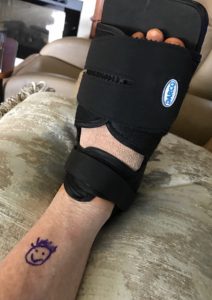 A visit the doctor to have the stitches removed from Jaynes foot…time to move on