Dec 29th…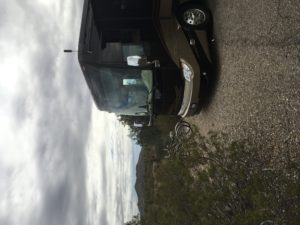 We having been wanting to try a little more remote camping. This is a great county park about 15 mile west of Tucson. Close to the Desert Museum. The is only 30A power and no hookups. We filled the water tank and emptied the holding tanks before we came.
This is a learning curve as to how much water we use over the next 6 days…good thing there is water across the street and I can get to it if need be.
We have driven thru this park several times and had picked out a spot we liked..No reservations so it is first come basis. The day before we drove thru and stopped at the site and ask when the people were leaving..tomorrow..great..Jayne drove out about 9am and waited for them to leave and them drove in. Good thing others were circling too. They left at 11:00 , the very last minute they could.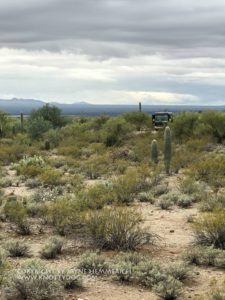 This has been a great spot for Jayne. She got the humming bird feeders out and also put an orange out. The birds down here like oranges. Even the woodpeckers come and eat them. Good thing I picked some from the trees at the RV park before we came out


A few of the visitors…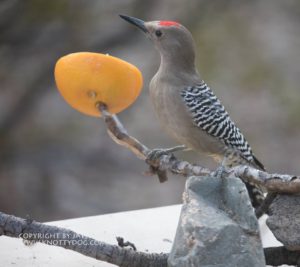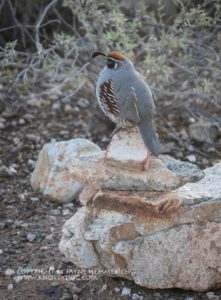 Dec 31st…
We drove down to get gas in case were wanted to go someplace tomorrow. On the way back we stoped at Old Tucson. We had never been there, but drove by it many times. Old Tucson is like a Knotts Berry Farm. It was originally built as a movies studio for western movies back in the late 30's .Over 300 movies were made there with stars like John Wayne. Its now mainly a tourist place.
Here are some photos…tap to enlarge..
New Year eve was quiet…we watch a couple movies and managed to stay up until about 10:30..saw the NY ball drop…
January 1, 2017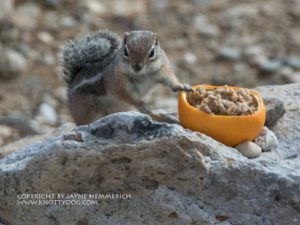 Lazy day…rained this morning..most of the morning.
New project for Jayne..she made suet and  used half an orange as a cup. Birds seem to like it..and the little ground squirrel.
We took a drive out to Saguro National Park. We have been there before, but always nice to visit. Took a short walk up one trail looking for an old nest we saw a year ago. Short walk as it was about to rain again.
Jayne is getting quite a collection of cacti photos.
Jan 3, 2017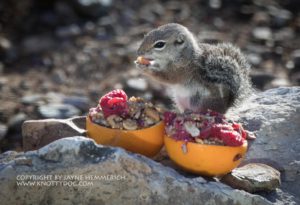 Just before we left, Jayne made one more batch of suet with raspberries in it
Headed to Quail Run RV Park just north of Sierra Vista. A short run of about 75 miles.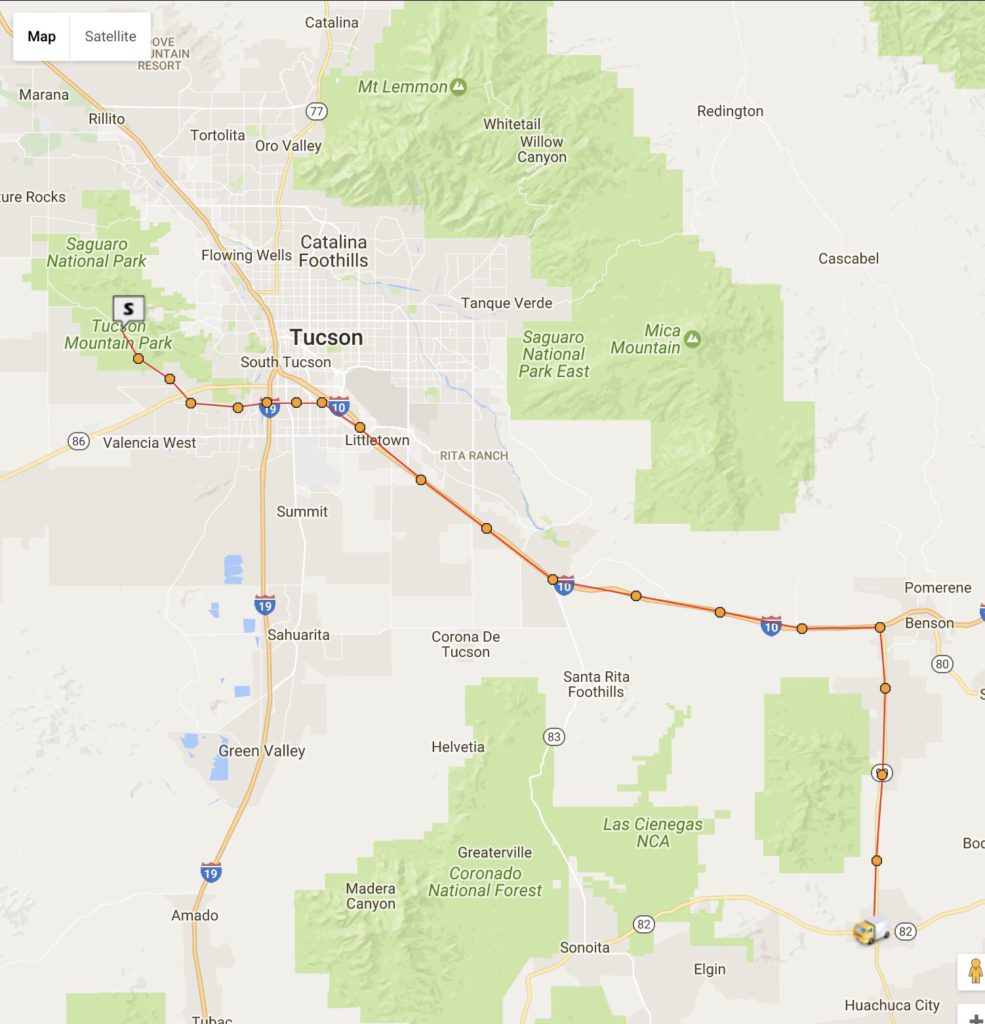 Sierra Vista is the home of a large Army base, Ft Huachuca. Must say they have a great grocery story..Fry's
Jan. 4/5, 2017
The day we arrived was spent getting settled..laundry and then a drive to Sierra Vista for groceries. There is a Big Fry's we found..what a store…everything
Wednesday we drove to Bisbee for the day. We went the Southern route which we had never done snd came to a border town of Naco…I know We never heard of it either. Not much there, but the remains of the first army outpost during the Mexican war..
Built between 1919 and 1923, Camp Naco (also known as Camp Newell) first housed military personnel during the Mexican Border Defense campaign and later served as a base camp for the Civilian Conservation Corps. Troops encamped at the facility included units of the renowned Buffalo Soldiers. The only Western camp made of adobe—and, ironically, the only one that remains fairly intact.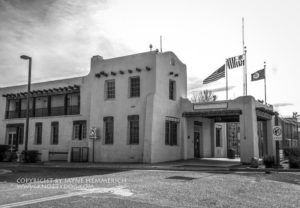 As we were wandering the border, in this small dusty town, the most interesting building was the old Pueblo style building serving as the border crossing building. It was looking back in time. It peaked my interest. This building is part of the very first buildings designed in the early 1900's to accommodate new travel across borders by car:
The government developed a model for the first border patrol buildings and here was some of the criteria.
The U.S. Border Inspection Stations from 1931-1943 were a newly invented, modern building type designed in response to the advent of the automobile. Usually located along the highway as one crossed the international border, U.S. Border Inspection Stations were often the first buildings encountered when entering the United States by road. The use of revival styles for historic Border Inspection Stations conveyed a federal presence and United States-specific imagery associated with the country's earliest Americans. Though a version of Georgian Revival, referencing the buildings of the early American Colonists is often applied, Spanish Colonial Revival and Pueblo Revival, which reference the first European settlers and early Native Americans in the southwest, are often employed in that region. This station, now a forgotten gem residing in a dusty border town now mostly known for illegal crossings, drug dealing and murders, was built in 1937 and designed by Simon, Louis A.; Neal A. Melick.
Saw a different side to Bisbee area and that was the nearby town. It seems swallowed up by the excavation left by the mining process. People still are living in these little miners cottages. Oneside of town had the shacks and the otherside just a block away had the "upscale" homes. Really amazing wandering through the area.
Bisbee is an interesting town trying to survive from the closure of the copper mines. Just on the efge of town is one of the biggest holes I have seen…a huge copper strip mine..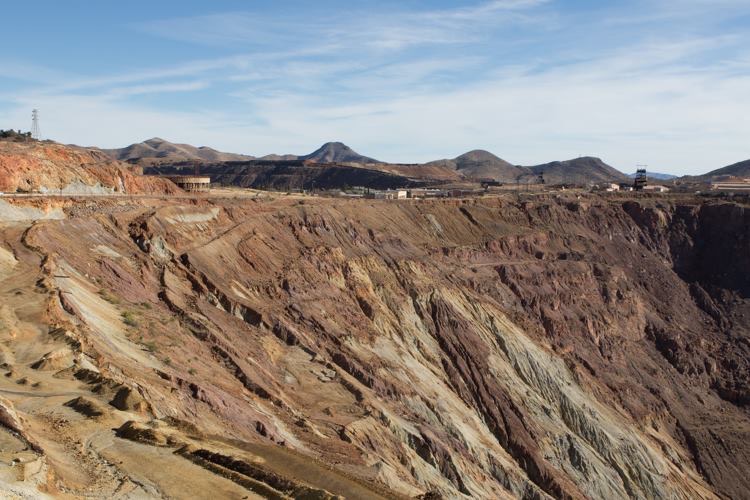 This shows yesterdays trip and the one we are about to do to Dogulas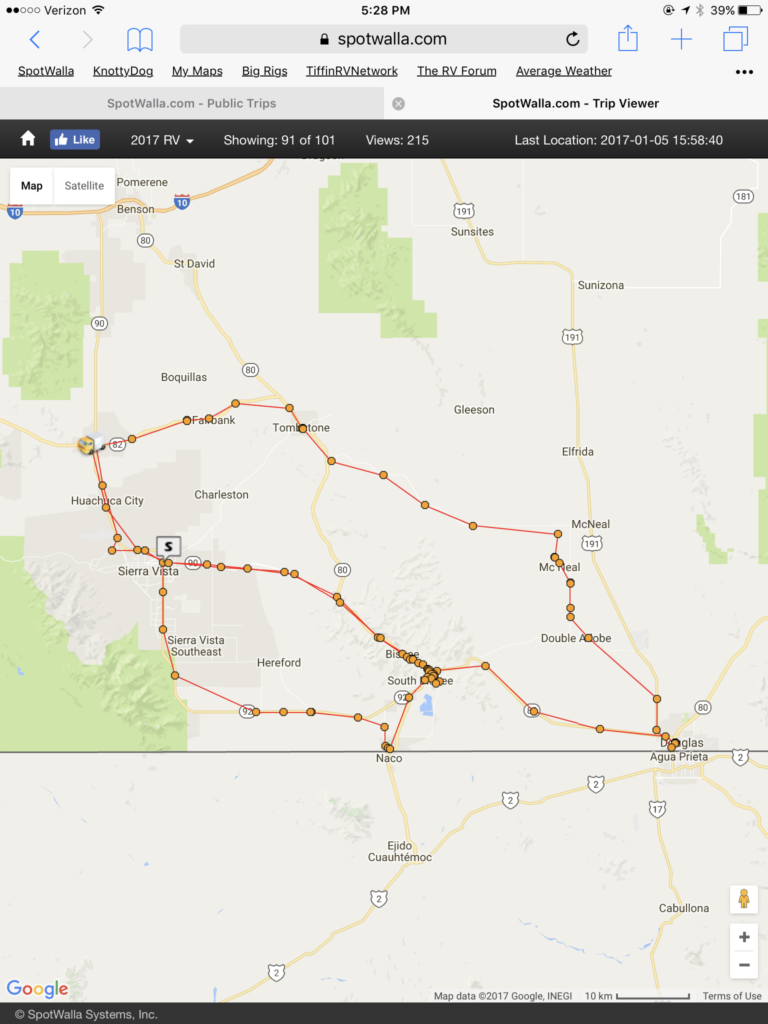 Yesterday we were on one of the back streets of Bisbee which has old motorcycles shops and I was listening to one of the old long bearded guys telling a guy to be sure to stop snd see the Gadsden Hotel….and the town is biker friendly…
This is a good UTube about the Broken Spoke
That was our destination ……for today…Douglas….a border town where this hotel is. Douglas is another mining town..Silver..that is decaying before our eyes, but you can tell it was a place to be at one time. The story Poncho Via was in a battle in that hotel. They had a small museum that was interesting, showing the different events in a timeline fashion.
Stopped at the border town of Douglas. Just a dusty town now with lots of history anchored by the old Gadsen Hotel whose famous guest list included Pancho Villa, John Wayne, Ave Gardner, and the Douglas Grand theatre where Ginger Rogers once performed, are all hanging on for survival. The lobby is quite grand compared to the surrounding downtrodden buildings and current lifestyle. was interesting to note the territorial style architecture around town. I hope it somehow survives without modernization.
Of coarse Jayne has done Her homework and we had to stop at the Whitewater Draw wild life preserve and then on to Tombstone for some local honey before completing the loop back.
Jan 7.. Saturday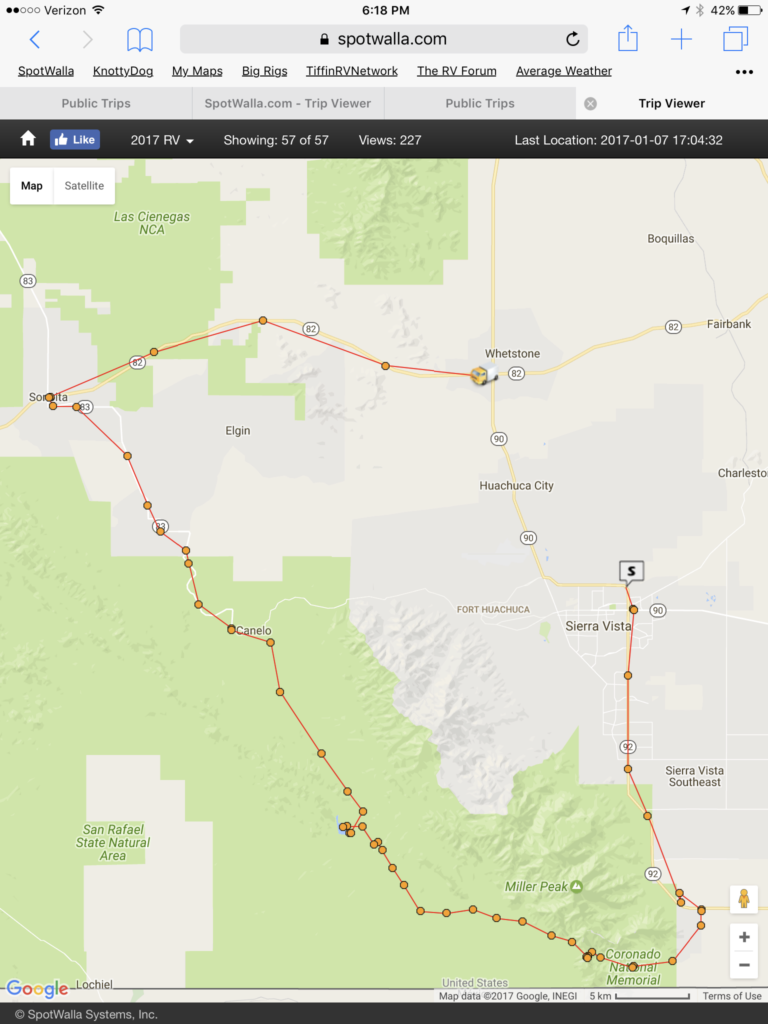 Headed to the Coronado National Monument today. Not really expecting much that we have not seen. Official statements indicate that it was initially designed as a gesture of goodwill and cooperation between the United States and Mexico, through the recognition of to the area.
I guess my history class never new about this expedition
More here….   http://arizonaexperience.org/remember/coronado-expedition
Anyway it was interesting, BUT the road from the visitors center continues on for about 3 miles…the last 3 dirt to the top of the mountain to a place called Montezuma Pass……from there you can see for miles in the valleys on either side snd into Mexico..
When we got there there were to trucks parked on either side of the parking lot…..border patrol… there were looking at each valley.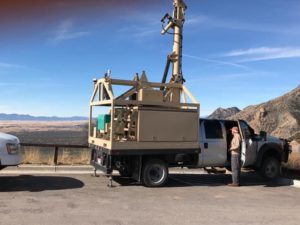 I went up to one who had His door open a little and looked inside. A officer was sitting inside looking at two monitors….one was a radar and the other was a camera….He told me the radar looks for movement and then if he tsps the screen where the movement is the camera automatically zooms to that location. He has several chase trucks that he can then direct to that location…..He said it was a slow and boring day as it is a Mexican holiday. The only think He has seen was a deer. On South East side is the valley that Coronado came thru. There is a long boarder fence that stretches for miles ….guess Trump is getting it done. My guess this is on this section because of the Army Base up the valley at Sierra Vista.
One day as we were heading to Sierra Vista we saw a large drone, coming in for a landing at the Army base. I ask the Boarder guy in the truck if they use drones….He said no , but they do use use them for training the people at the Army base as it is the Army's Headquarters for intelligence.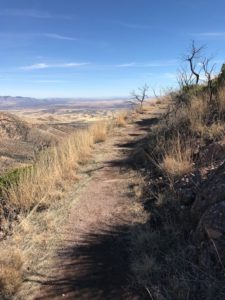 From the parking lot there is a trail that goes to the top of the mountain…Jayne went all the way up for the 360 degree view .
From here the road does continue to the West…15 miles of dirt road to a small lake and then you get back to a poor paved road. We made the loop and ended up in Sonoita at our favorite steak house….The Steak Out. We did come across this historic sign before we got to the lake
The day had been a little slow on wildlife, but after the lake things picked , deer, cows, birds and a road kill.
Took an amazing bike ride up the San Pedro River, visiting the remains of an old mining settlement, Fairbanks.. We Made a loop up the river of about 4 miles to an old mining cemetery and then on the the ruins of an old stamping mill for mining.