March 1st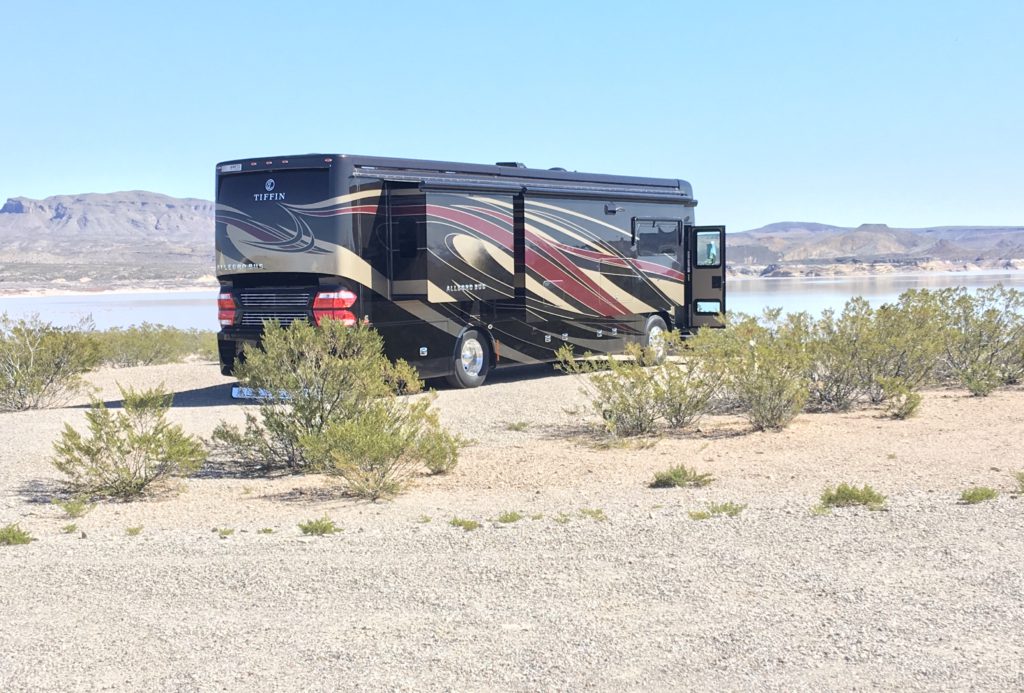 About 100 north of Las Cruses is Elephant Butte State Park. Up at the North End is a campground that we saw last year when here, a place that has been on Jaynes bucket list. Space 19 at the very end over looking the Rio Grand and Elephant Butte Lake. Its a great spot even though it is laid out backwards. We drove in with the big windshield facing the lake. The power and water are on the right. I guess this is laid out for trailers and 5th wheels. Our power cord would not reach, so I drove back to Elephant Butte found Walmart and got a 30 foot 30A cord.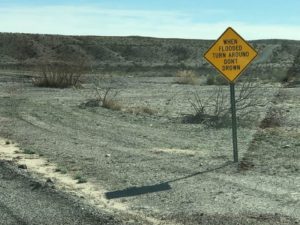 Birds are the attraction for us and there seems to be plenty although the cranes have already headed North. A few stragglers. We drove the 40 + miles up to the Bosque Del Apache reserve to see what was there. Not much. There are more birds down where we are.
We did stop in the little town of San Angelo just Nofth of Bosque Del Apache and had lunch at a place call The Owl.   They were to have the BEST chillie burgers.  Turns out this is where Conrad zhilton got His start.  Guess his parents owned this as a store at one time.  During the early nucular testing in this area prospectors used to cpme in and order this burger.  Turns out they were nucular engineers for the tests in the area.
Friday,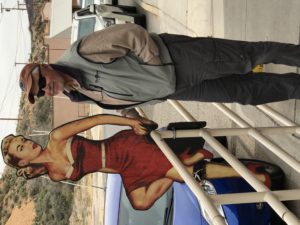 A few miles South is the town of Truth or Consequences. I guess many years ago it was famous because of the Hot Springs, but that seems to not be in favor any more. There is a great little coffee bakery that we like. We had to stop and have a scone and muffin and  watch the locals. I guess this is also famous for the space port. We did visit there display in the hotel last year, but have not driven out to the actual site. We did hear that its looking for money from tax relief.
We drove around the Dam and out to a small town about 18 miles East of Truth or Consequence called Engle…..well that was a bust…nothing out there at all..nothing. At the end of the county road is a few buildings which is the headquarter to the Armendaris ranch. This is ONE of Ted Turners ranch that extends for miles along the Rio Grand. The story is He bought all this land so the Buffalo could migrate.
http://www.tedturner.com/turner-ranches/turner-ranch-map/armendaris-ranch-new-mexico/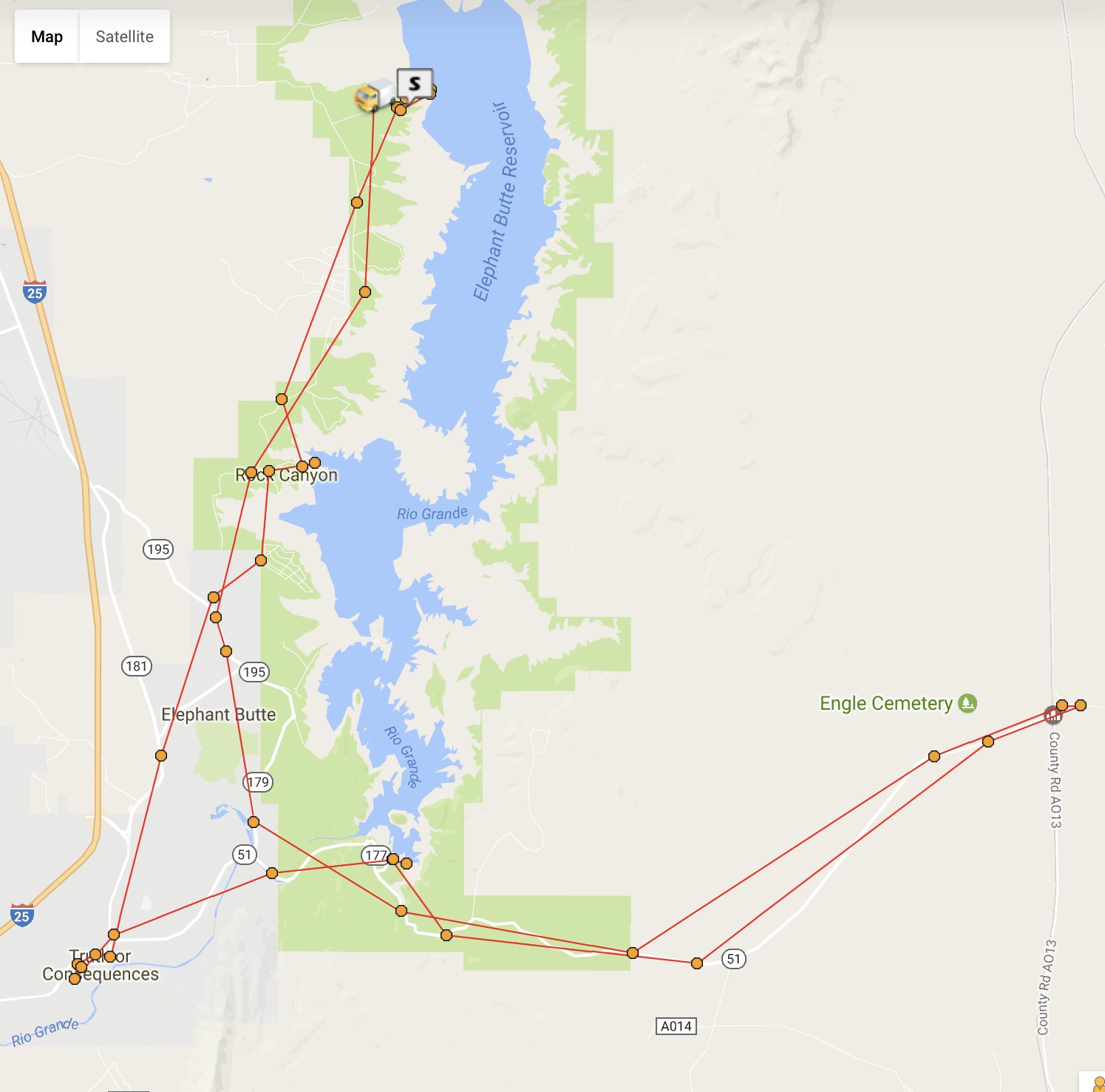 Sat. March 4th
Heading  to Roswell, NM..
"Up early, bus stocked with local chilies and homemade tortillas and on the road to Roswell and going by the site where they tested to first Atomic bomb."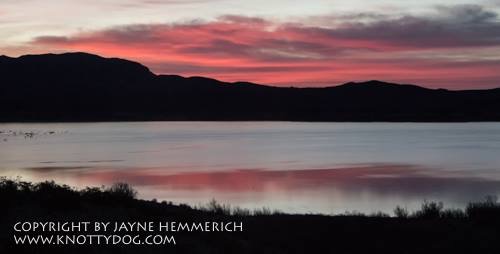 Got worried about fuel…left with a 1/4 tank but about half way with 💯 miles to go I was down to 1/8 ..who knows if gauge is right? Put in 125 gal..Only hold 150…guess I would have made it, but we were lucky.  Problem this is all desert and more desert..lucky found a gas station I could get into who had diesel….very 🍀
From now on 1/4 tank ..fuel no matter what..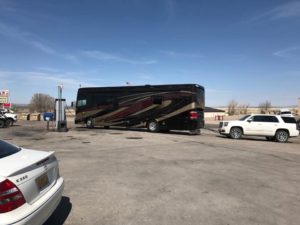 "And here we are in the middle of no where having to fill up! Yikes!
Had to restart the pump twice so it could accommodate 125 gallons! Holy moly Larry"
March 4 th …Roswell, NM
What a different place..if it were not for the whole Alien thing..this would be a total dump.  The Alien museum was interesting.  Bottom line ..make your own decision.
From there we made our way to Fort Stockton.  We left at 06:30 trying to beat the wind that was forcasted to get worse.  I was using a web site that allows you to see wind gusts and wind at various times and locations. In any case we decided to head out.  For the most part it was just strong wind.  A few good gusts did rock us, but we made it with little effort.  Very interesting drive with all the fracking going on in Texas.  The roads full of trucks and wide loads.  Carlsbad is a dump.  I always thougt it was close to the caverns, but its not..66 mile further South.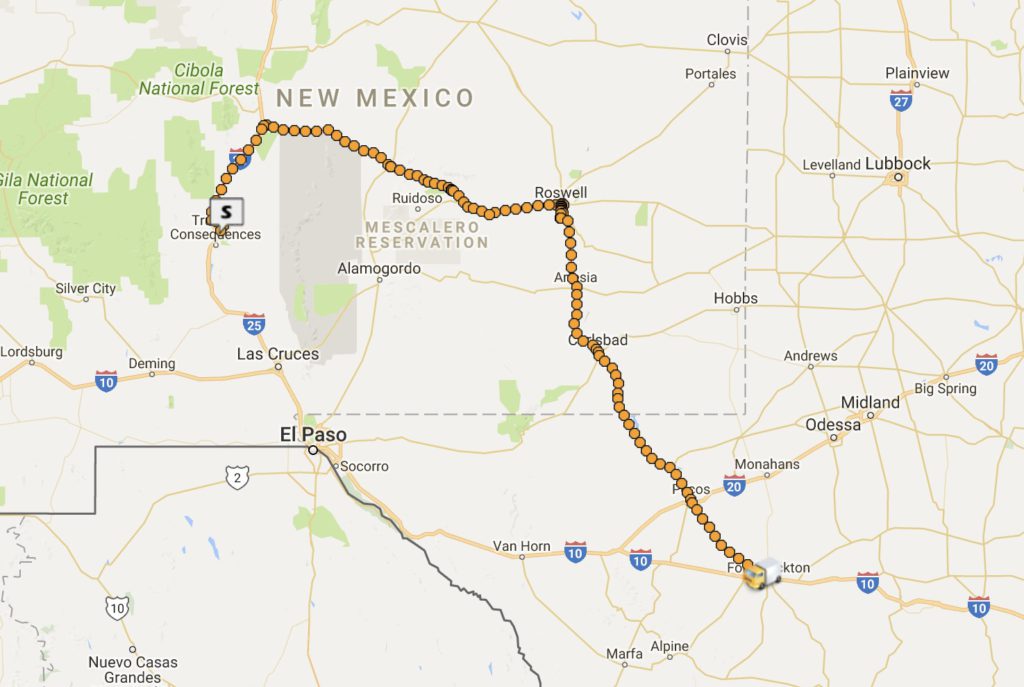 "That is the moon up there too! Amazing sunset last night. Wild winds on the drive yesterday but the day ended nicely. Fort Stockton, TX."
"Whoa! Wild ride yesterday through the dusty oil fields on a windy day. Wow, does anybody have any idea what goes on out here? These truckers are working their dogs off, hard dusty dangerous work. How about hauling this load, gave us some pause getting by him."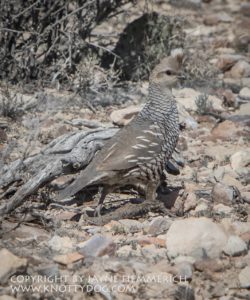 Little Scaled Quail family scooted by the campsite yesterday. Texas.
Holy moly, making a truck load of fresh tortillas in the grocery store here. Fort Stockton, TX and it's not Walmart.