TIP…..you can tap on the small photos to enlarge
Wed, Feb 22nd
We sadly left Motorcoach Resort heading to Apache Junction to have a small air leak looked at.  We stopped at the Sams parking lot and met a guy to weigh all four cornors of the coach.  He had portable weighing equipment.  He provides a summary of your weight for each wheel and where you are heavy on one side or another.  In general we sre within limits bur our Drivers side aft is heavy. I guess the coach was built that way as we really do not have anything on that side.  Where I was worried we have room for more.
We ended staying in the parking lot of East Vally RV Specialist as our appointment was not until Thursday AM. When we opend the slides Jayne found that the mirror on the closet door had fallen off.  Thank God that it did not break and happened when we were at a repair place.  They guy doing the work was real pro. He knew how to get the door off the track…easy when you know.  He rebuilt that door and I had the other one re staples just to be sure.
The leak in the air system was found in about 10 minutes…and the fix…cut the hose off and reinsert.  He check all the other connections….all ok. While there I decided to have him do a complete check on the Aqua Hot system too…just to be sure…all ok..
The work probably took 3 hours, but it was 2:30 by the time we got out of there.  Always a scheduling conflict and the guy was working on something else.  Nice thought, Tiffin covered the air leak as part of the 3 year chassis warranty.
We headed out at 2:30 and Jayne drove the car rather than hook up the tow. The route thru the mountains is really great.  We ended up at the Apache Gold RV which is part of the Casino Resort in San Carlos, a 70 mile drive..
Friday,
Here we are at the Apache Gold RV park.  Really a big parking lot, but clean and great for hat we need..water and power. Woke up to a cold bus as it was about 30 degrees and I did not have the diesel heat on and the electric can not keep up when its that cold.  The floors are nice and warm and as soon as I got up and turned the diesel heat..it was warm.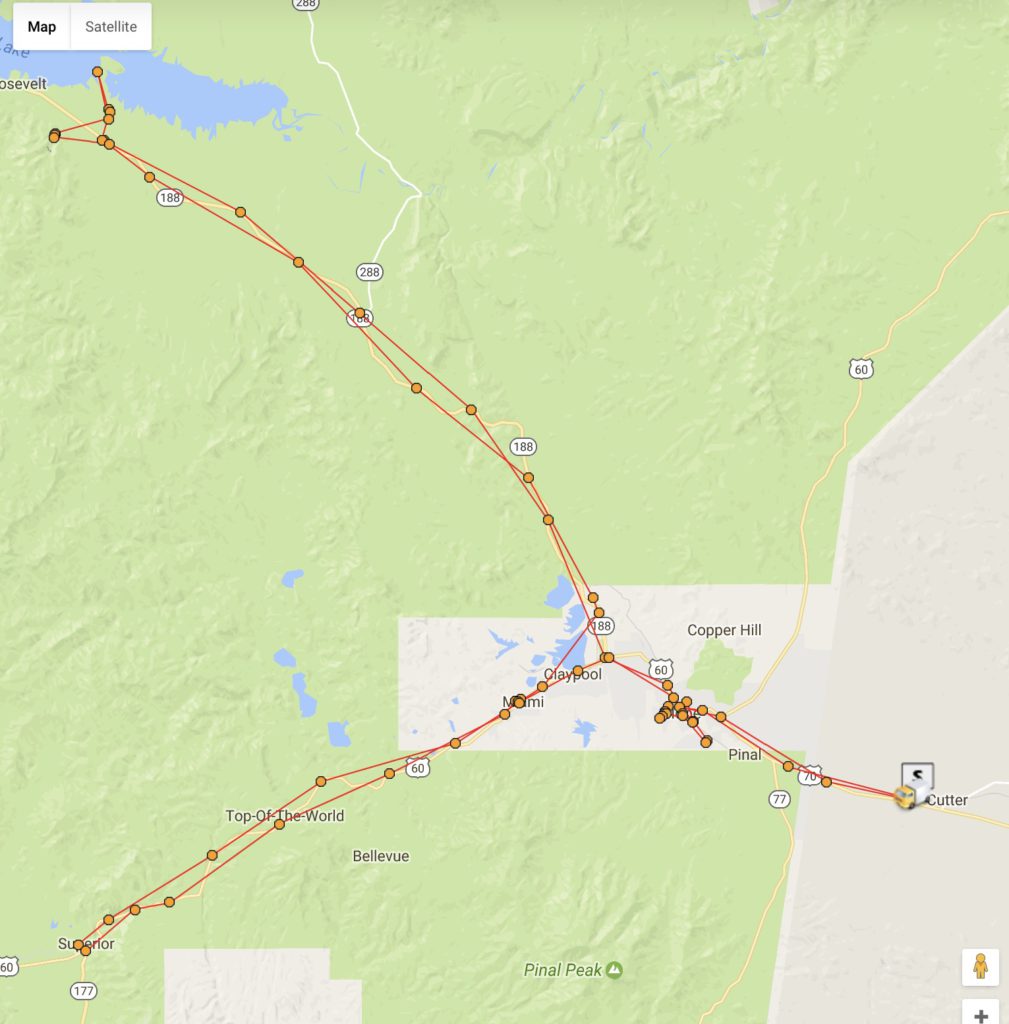 Off we went to see the area.  Globe first,  to the Besh-Ba-Gowah Archaeological . Interesting area to see how they lived in the 12-1300
Then we went up to Tonto National Monument….never really had understood these. We did not take the hike up to the actual ruins as Jayne would like to have, but is Her foot is still very sore. With The big lens we got some photos anyway
On the way back we went back along the way we came in yesterday to take some video of the rocks and  mountian formations.  This really is a great drive if you go slow, but who goes show..everyone is in a hurry and alway on your tail.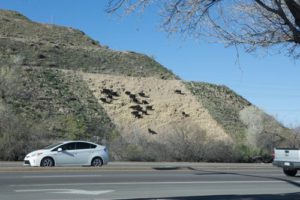 This struck us as pretty funny. Yesterday we drove by and noticed a cow on the steep side of this cut away mountain munching away at some freshly laid straw that we assume was put down to retain the hillside from erosion. It was pretty hilarious and adventurous of this cow as the hillside was ridiculously steep. Several hours later returning from our day's drive we saw the whole gang was there. Guess that idea of laying down some hay to keep the mountain from washing away was not so good. Or, is that the rancher's area to feed these cows? Either way, pretty insane to see……….John Blinkenburg commented…It is a common, used, just like you said, to prevent erosion. The hay attracts the cattle, the cattle both use their hoofs to stomp the hay into the fresh soil and in the process fertilize the soil. After a little rain that hillside will be green with new grass and, hopefully, if all goes as planned, the hillside will again become stable. Plus, cattle work cheap.
AND..a drive thru the Globe cemetery . ..This town like many we have seen on our travels is a modern ghost  town.
Saturday,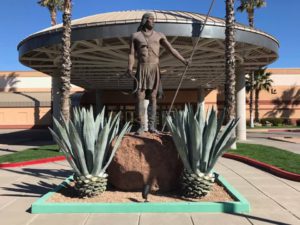 We left Apache Gold today for Las Cruses…
We are comfortably parked, spread out and hooked up on a patch of gravely dirt in Las Cruces for a couple days. Love to be in the land of incorporating green chilies on every meal, with a side of fresh tortillas to go with and within bike ride to old Mesilla, a well preserved adobe Presidio located right along the old El Camino Real trail.
Yesterday we were reunited again with our old "friend" Interstate 10 for half of the trip. I still recognize her bad acne of pot holes and patched sections, and the never ending mind numbing clickety, clickety clack of it's uneven cracked and bandaged backside. How much longer can she can survive like that? It is questionable.
I'm sure she jiggled several important screws loose in the bus that will create havoc for us down the road elsewhere and definitely she created several new noises that are already plaguing our zeroing-in skills for their location. We temporarily sufficed with stuffing cotton balls and folded pieces of paper in cracks and crannies as we rolled down the cracked highway hoping to resolve the annoying new noises. We look a bit like a wounded warrior with her, Interstate 10, to thank for it.
One thing we noticed with even more concern than the last trip across the country and what's becoming a common sight, is the great swath of modern day ghost towns and down right poverty sprinkled along our countries back roads. When did it become common to live in decrepit motor homes with trash and relics spewed everywhere? It's like many have given up. It's eye opening and sad.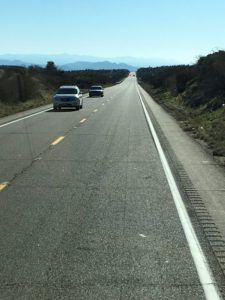 We are taking as many back roads as humanly possible on this trip. Why? We want to see how people live even though it takes longer. We are sick of looking at the chain stores and chain restaurants, the stucco look alike strip malls and less likely to encounter the big rigs that practically blow you off the roadside as they rumble by on impossible schedules to get to the next delivery location.
We passed loads and loads (in my mind) of photo opportunities to capture this changing look of the land, of sad empty deteriorating "homesteads", gas stations, cafes, motels, because, of course, you can't stop in this big rig without major consequences, that being: impossible to turn around, impossible to stop in time or find a place to park off the road that is big enough, but we have the mental pictures to remember them by. Larry says that is why we have this thing, park it, make home base for a couple days, and explore by, the more flexible, car. So we will.
Monday, Feb 27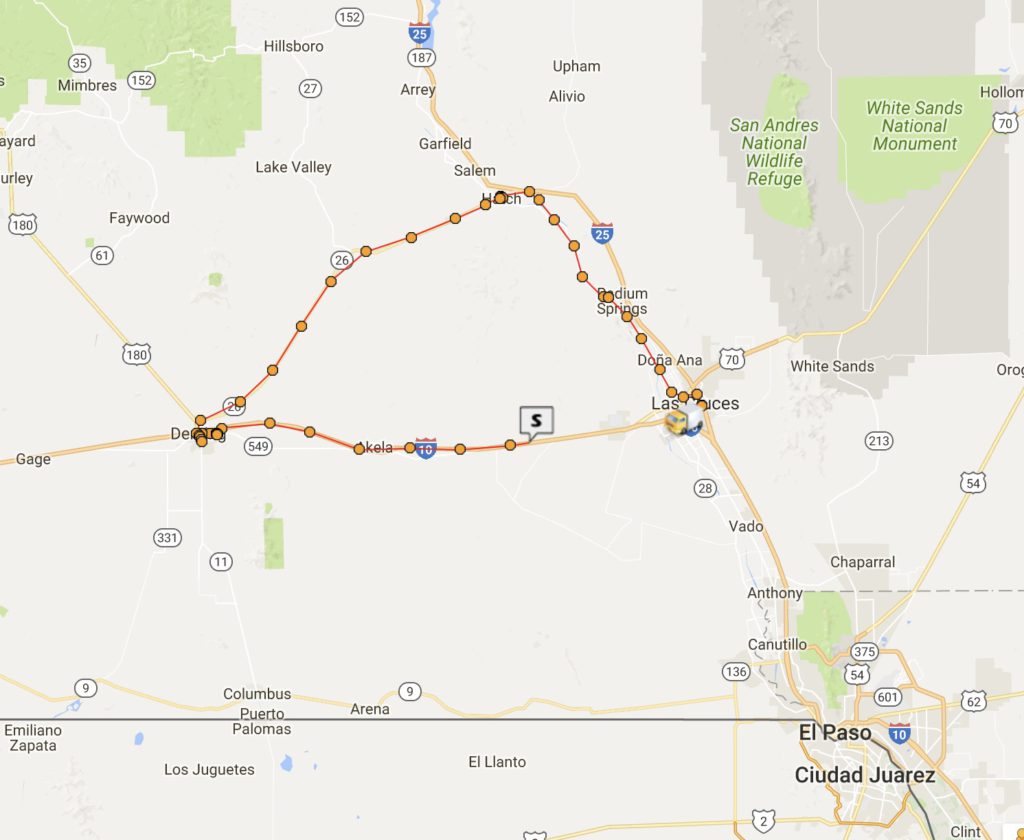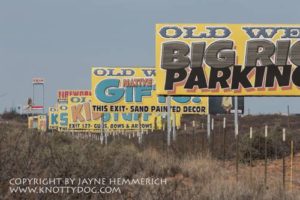 We took a long drive today back the way we came to Deming, a small town that we thought might be interesting…not much there unless you come for the duck races.
A little stop along the old Butterfield Stage Route and then travel along the Old West Highway.
We decided to head to Hatch for Lunch.  The drive is out in no mans land except for big wind farms and solar farms. We heard about a pace called Sparkies that is famous. It was closed, but looked like it would be interesting.  Guess it has all kinds of Stuff…Here is what we saw outside.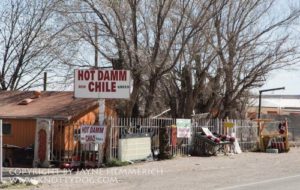 Red or Green Chilie everything!
Green Chilie Sundae, Green Chilie Burger, Green Chilie Wontons, Green Chilie Vodka, Green Chilie Bloody Mary, Green Chile Margarita, Filthy Dirty Green Chilie Martini, Green Chilie Lasagne, Green Chilie Tortellin with Green Chilie Alfredo, Green Chilie Hummus, Green Chilie Beer, Red and Green Chilie Pizza, Green Chilie Chicken Spring Rolls, Green Chilie chicken Wings, Green Chilie popcorn, Green Chilie Pistachios and Pecans, Green Chilie Pistachio Chocolate Bar, Green Chilie Shake, Green Chilie Jerky, Green and Red Chilie Potato Chips, Green Chilie Marmalade, and last but not least, Green Chilie Wine!
They actually all sound really good to me.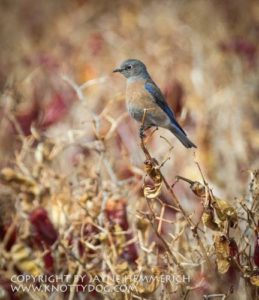 On the way back we took the side road and came across a field of Red Chilies..I have never seen so many and the Western Blue Birds like them too!
Tuesday,
Glad we decided to stay an extra day as BIG wind storm came thru…50 mph winds and so much dust you could not see more than a mile.  Took the oportunity to have the tires changed on the GMC.  I do not want problems while towing that.
We are now heading to South Monticello Camp ground for 3 nights.  A place Jayne has always wanted to come back to.  Its about 70 miles north and on a plateau on the Rio Grand River.  Its a State park.
We bought a Go Pro..be interesting to see how that works today.  Going to try the Time Laps function.